We're all familiar with the quest to find the right (and ripe) avocado. At Apeel, we're all pretty obsessed with avocados – we've dedicated our careers to understanding them, making them last longer at peak ripeness, and preventing them from going to waste. That's why we've brought you here: to find out what stage in the ripening cycle your avocado is in, so it's fresh when you need it to be.
This isn't your average avocado. If it's an Apeel-Protected Avocado, it'll stay in that ideal window of peak ripeness for longer thanks to the help of a little extra "peel." Our plant-based protection uses materials found in the skins, peels, and seeds of plants to create an edible coating that keeps moisture in, while still allowing the fruit to breathe. That longer-lasting effect helps prevent food waste: a huge win for you and for our planet.
How ripe is your avocado? If you're at the store, use the chart below to figure out which avocado to buy by giving it a gentle squeeze. Buy avocados at different levels of ripening, or "stages" so that you have a freshly-ripe avocado every few days.
If you're at home, use it to find out what you can do with your avocado at every stage in its ripening cycle. This way, you won't waste another dollar (or avocado).
Avocado Ripeness Chart: Stages 1-5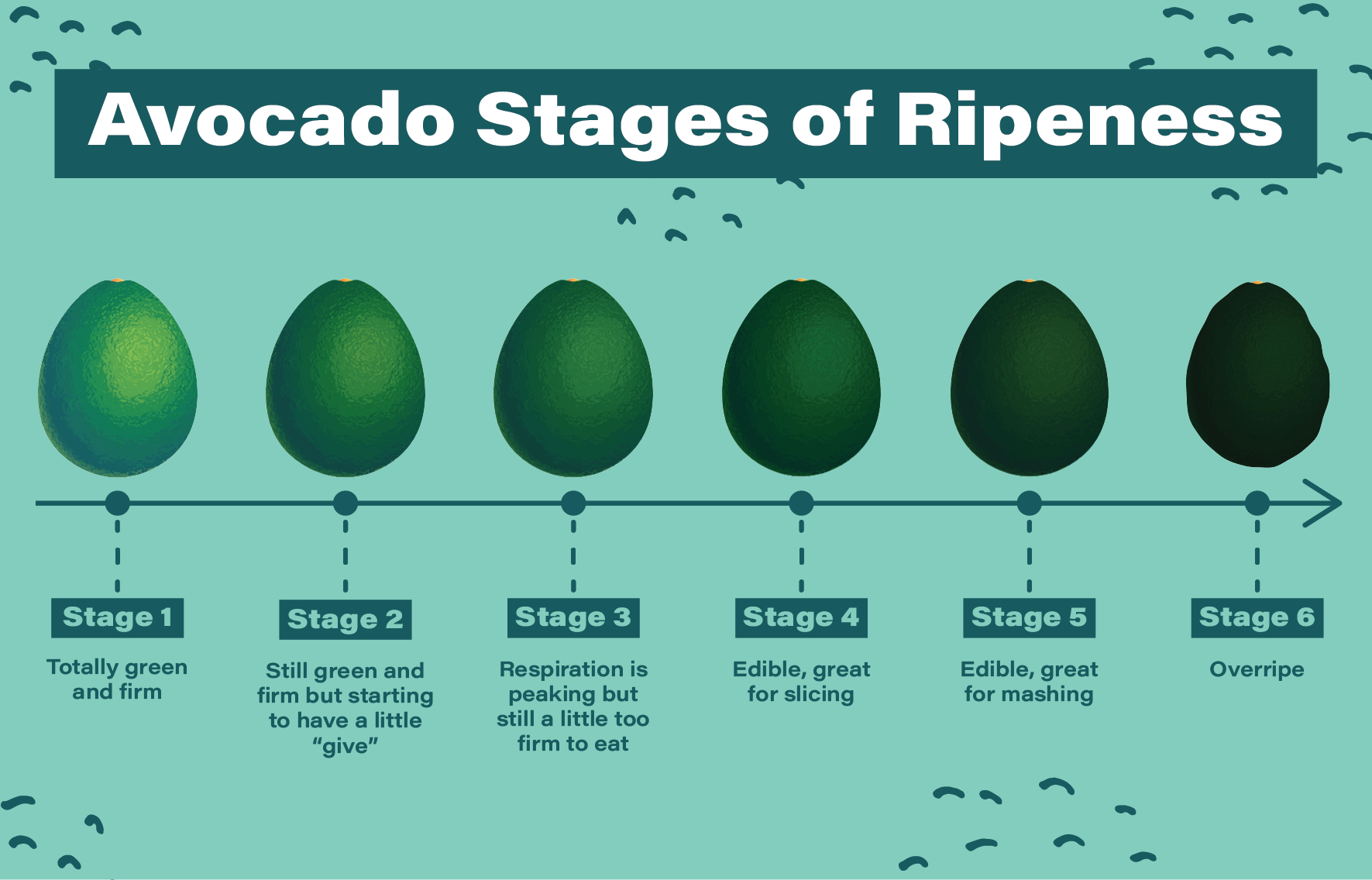 Stage 1: Rock Hard
These avocados have just been plucked from the tree. You'll notice they are extremely hard, and probably bright green. If you want to prepare for a big dinner in 5-7 days and want to get your shopping done early, this avocado is a great choice. Just make sure to store it at room temperature, and don't plan on slicing into it until it starts to soften. You can speed up the ripening process by putting it in an enclosed space (like a brown bag) with other fruit.
Stage 2: Still Too Hard to Eat
This avocado will still feel too firm to cut, with little-to-no give when squeezed. But it's on the right track! It will be ready to eat within 2-6 days if kept at room temperature, and you can use the brown bag trick here too. If it's Monday and you want to make guacamole this weekend, choosing these at the store is a great choice!
Stage 3: Wait For It…
The breaking stage is when the avocado is starting to give ever so slightly to pressure when squeezed, but it's still not quite ready to eat. On the inside, however, things are starting to get exciting. This is when a burst of ethylene – the gas that accelerates the softening and ripening of fruits – is released. When we think of the "breaking" stage, we like to think of those ethylene gas molecules coming and breaking down cell walls and softening the flesh. Some avocado varieties–like Hass, Maluma, Mexicola, or Brogdon–will start to darken to a deep green or blackish-purple. You might see changes in skin color around this time, but the color isn't always an indicator of ripeness! This avocado will be ready in 2-3 days if left at room temperature, or sooner if you use the paper bag method for a day.
Stage 4: Firm-Ripe
Ready to eat – lights, camera, action! Since this avo is perfectly firm for fresh eating, we recommend slicing or dicing it if you want to eat it today or tomorrow. A firm-ripe avo is perfect for slicing into a salad, rolling into sushi, or topping a grain bowl, but it is usually still too firm to mash. This is when you'll start to see the difference of an Apeel-Protected Avocado, which stays at peak ripeness longer.
Stage 5: Ripe
Ready to eat – it's party time! This is a mature avocado: soft on the inside and can easily be scooped out and mashed. Try a fun guacamole recipe, blend up an avocado shake, try this avocado lime crema topping, or make an eggless avocado carbonara. If it's not Apeel-Protected, the avocado will last 1 or 2 more days on the counter in this state. If it is Apeel-Protected, it will keep in that ideal edible window for a few days longer. If you want to really stretch out the time, put it in the fridge once it's ripe – that will keep your perfectly ripe avocado fresh for even longer!
Beyond Stage 5: Overripe or brown
Perhaps your avocado missed its heyday: the flesh is brown and it won't make for very pretty guacamole or smoothie, but you can still eat it: we've got some fun uses here!
Make some creamy chocolate

avocado brownies

! The avocado makes them extra creamy.
Whip up an avocado face mask: We found some

soothing homemade face mask recipes

to make you and your avocado glow a little brighter with honey, oatmeal, citrus, or even eggs!
If you're finding that your avocados go bad too fast, ask the produce manager at your favorite grocery store to stock Apeel-Protected Avocados! You can always use the Apeel store locator to find Apeel-Protected Produce near you. More time to help you enjoy more and waste less: that's better for your budget, and better for our food system.