Imagine being able to extend the ripe time of delicious and nutritious Spanish citrus, and making the very most of a Spanish citrus season that normally lasts from November to May. That's the Apeel promise – across citrus categories from popular mandarins and oranges to juicy lemons and delicious grapefruits – our Apeel-Protected Citrus bundle can delight your customers with fresh and flavorful citrus that lasts longer.
Plant-Based Freshness Protection
Once citrus is picked, it stops ripening and starts to lose water – the freshness fades. Apeel extends that just-picked freshness with a plant-based layer of tasteless, odorless protection that slows water loss and oxidation. So Apeel-Protected Citrus can enjoy a longer shelf life, staying fresh longer to help prevent food waste.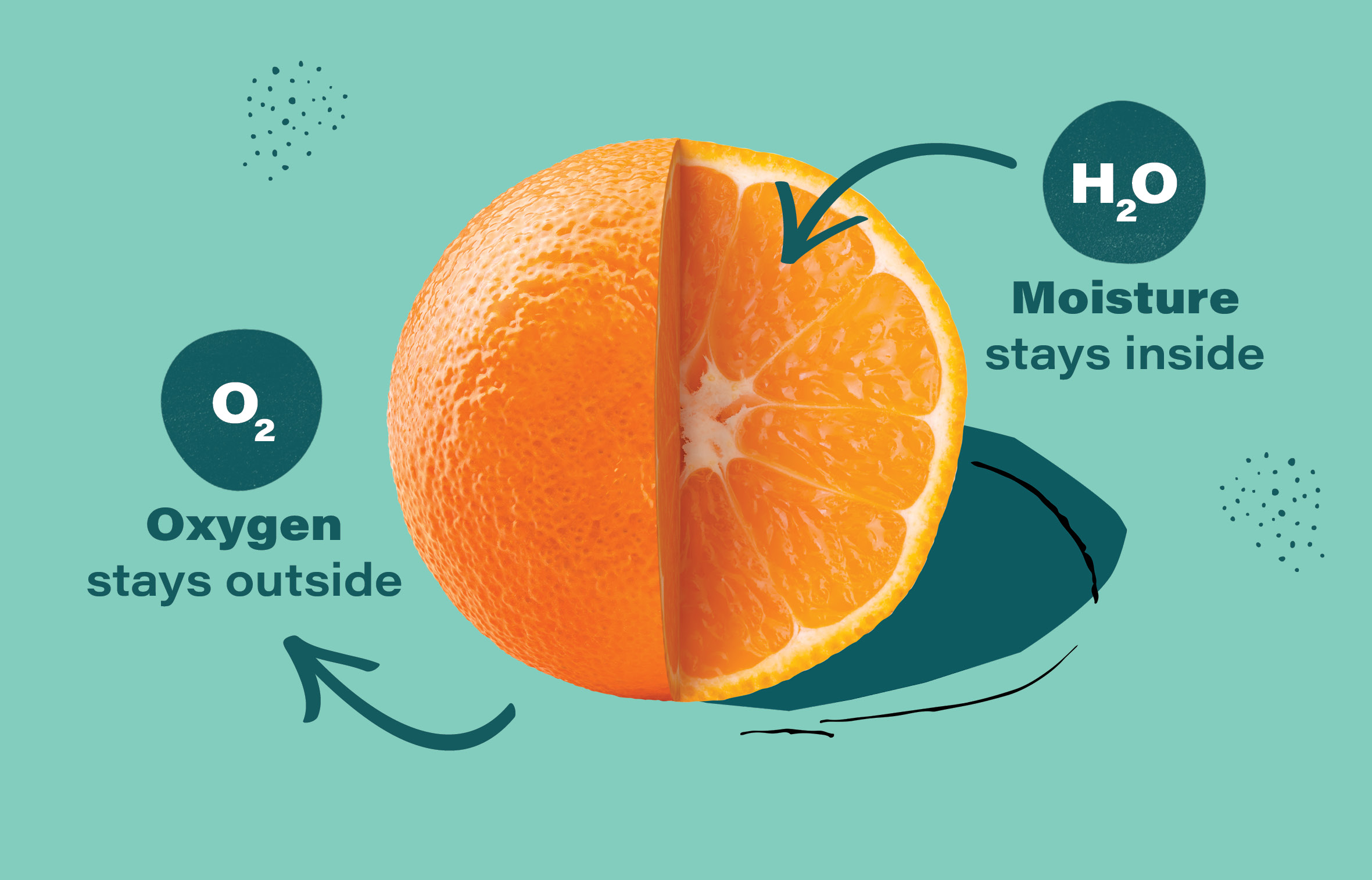 Consumers Value Freshness
In consumer studies we conducted across Europe, we discovered how Apeel can beat consumer expectations. Over 60% of European shoppers throw out mandarins that go bad before they've had a chance to eat them. 81% believe mandarins last 4-9 days post-purchase, and 69% believe oranges last under seven days post-purchase, whereas Apeel-Protected Citrus noticeably extends freshness in-home beyond that. In a side-by-side comparison with citrus treated with traditional wax, Apeel-Protected Mandarins were shown to have 7+ more days of shelf life, easily besting the expectations consumers have. Not only that, but Apeel also improves the duration of firmness, which is the leading indicator of freshness in-store for mandarins, oranges, and lemons.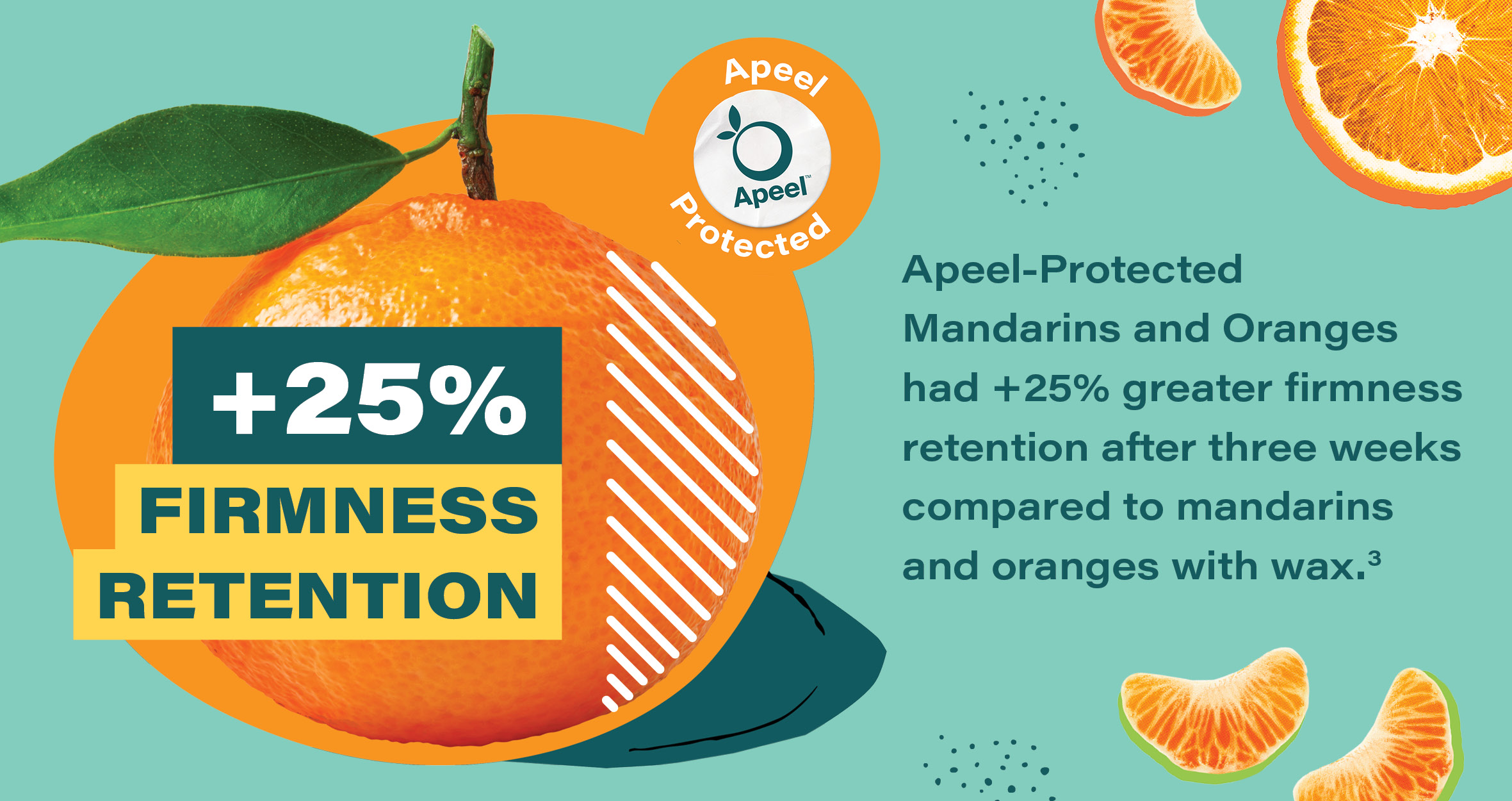 What This Means for Your Business
Across key European markets, consumers have proven their growing willingness to spend for what they deem to be fresh, high quality, and sustainable produce. According to research Apeel commissioned from a third party, German citrus shoppers will pay up to +14% more for premium brand oranges and mandarins protected with Apeel. The analysis also indicated that Apeel's brand promise is likely to increase volume purchased at the same price, with the largest gains coming from current shoppers. The "share of stomach" increase due to Apeel was +3.6% for mandarins and +6.9% for oranges. By satisfying existing shoppers, retailers have an opportunity to grow total sales volume at the store and regional levels to help increase market share.
It's a win-win proposition. That's how Apeel-Protected Citrus delivers on its promise: exceeding expectations for longevity, freshness, and sustainability. What can Apeel protection do for you?
While we finish this year's season, you can find Apeel-Protected Citrus at EDEKA and Netto stores in Germany, Asda in the UK, and Eroski in Spain. Reach out if you are interested in trying longer-lasting citrus for yourself.
Sources:
"Apeel Freshness Assessment" (UK, Germany, Switzerland) Prepared By Hall & Partners on Behalf of Apeel Sciences, June & September 2021.
Third-party Study Prepared By Leading German Research Institute on behalf of Apeel Sciences. November-December 2021.
Apeel Performance Monitoring Program data. November - December 2021.
"Quantifying Consumer Value" Prepared By Hall & Partners on Behalf of Apeel Sciences, October 2021