At Apeel Sciences, a win for us equals zero food waste, but we know too well that we all need to up our game since 40% of the food grown for consumption is wasted. We're part of a global effort to eliminate food waste, wherever it arises. While we all know the famous three players in this effort, "Reduce, Reuse, and Recycle," to become All-Stars in the waste game, we need to up our waste management skills.
With our food-waste fighting, plant-derived solution for extending the shelf life of fresh produce, we're pros at reducing food waste in the supply chain. But what about our offices? To up our game as food-waste champions, we often reference the Waste Framework Directive developed by the European Union. This Framework provides explanations and principles about waste management, but more importantly, lays out the Waste Hierarchy - in other words, the rules of the game!
The Waste Hierarchy is our playbook for waste disposal direction. This prioritization framework helps us find solutions high on the Waste Hierarchy (see image below) where we can prevent food waste, rather than automatically sending waste to the bottom of the pyramid (i.e., landfill).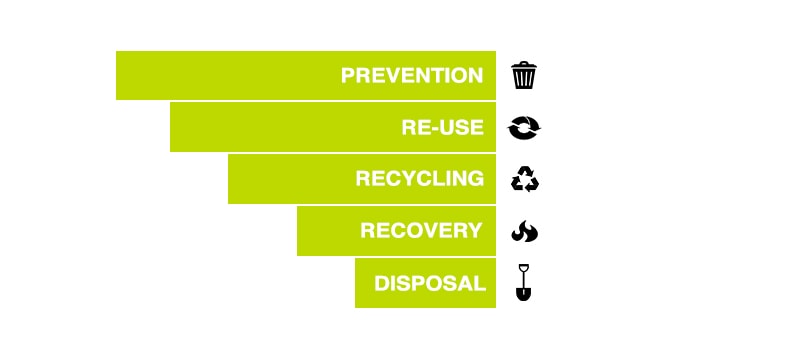 Photo via Skip Hire Network
Need an acronym to remember the Waste Hierarchy? Use APEEL as your "mental hook":
AVOID
PREPARE FOR REUSE
EXAMINE RECYCLABILITY
ENERGY RECOVERY
LANDFILL DISPOSAL
We use the hierarchy when making game-time decisions. Let's talk about a few examples:
Prevention: Since Apeel Sciences' inception, we have validated our technology by testing on produce. With such a high volume of produce needed for experiments, combined with a wildly successful shelf-life extension technology, our staff cannot fully consume all of the produce we use for testing before it perishes. Instead of sending the produce to compost, the company currently partners with the Foodbank of Santa Barbara County to donate produce to food insecure groups in our local area. As a result, in 2018 we donated over six tons of produce to the Foodbank!
Recycling: At our headquarters in Santa Barbara, many of our experiments test produce until it becomes inedible, in order to determine the effect of our technology on extending shelf life. Sometimes these experiments leave us with a lot of food waste that could end up in a landfill. We thought we could do better, so the Team began exploring new ways to valorize our food waste. Serendipitously, the Team was introduced to Guner Tautrim and his team at Orella Ranch who utilizes the technique of vermiculture (i.e., composting using worms).
Since July of 2019, we have donated over 7,000 pounds of food waste to Orella Ranch, avoiding 1,900 kg of CO2 emissions from landfills. At this rate, by the end of the year, we will prevent an additional 4,800 kg of CO2 emissions. These savings are enough to offset 2 days of all Apeel Sciences employees commuting to and from work!
These are just a few examples of how the Waste Hierarchy helps us go for gold in reducing food waste globally AND in our backyard. With this as our game plan, we are motivated by the idea that the "cleanest" waste management option is to not create any waste in the first place. That's why we are working with nature to find a solution to keep produce fresher longer, thereby preventing waste. But, there is no "I in Team" and to win this, we need more players. That's why we partner with all stakeholders in the food supply chain to beat food waste.
We hope you join us as fellow waste opponents and champion the Waste Hierarchy on your playing field!
---
[1] Definitions pulled verbatim from the Waste Framework Directive