What's better than the satisfying crunch of an apple? When that crunch is paired with a bite into a delicious, longer-lasting Apeel Apple. Because every time you choose an Apeel Apple, the planet benefits.
Globally, 1/3 of all food produced is lost or wasted (FAO 2011), and in the United States, most of the waste in the food system happens in our homes (reFED). With a plant-based extra "peel", Apeel Apples help reduce food waste from farm to table, ensuring that more of the apples grown are consumed.
Of course, you can enjoy an Apeel Apple as is. But when food goes good, you can make a difference in every meal you put on the table. That's why we're sharing our favorite recipes that place Apeel Apples in the spotlight.
Read on to learn how to make a golden-brown apple pie that tastes of home, a hearty, yet refreshing bowl of apple overnight oats, and an aromatic serving of bite-sized apple chips dusted with cinnamon sugar.
Apeel Apple Pie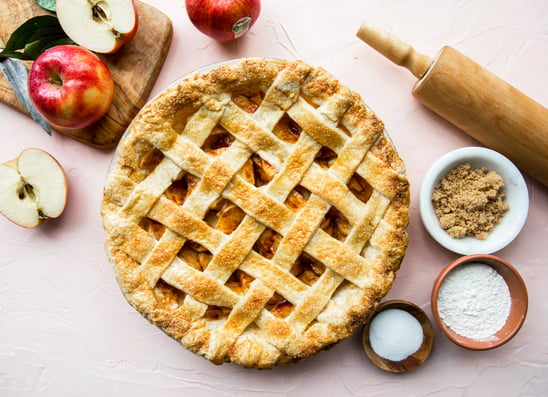 Fresh, juicy Apeel Apples meet a flaky, golden brown crust in a delicious pie perfect for every season.
Ingredients
For the Crust
2¾ cup all purpose flour
¼ cup sugar
1 tsp salt
¼ tsp baking powder
14 tbsp unsalted butter (cold), sectioned into 1" pieces
1/4 cup vegetable shortening (cold), cut into fourths
7 tbsp very cold water
For the Filling
3.5 lbs Apeel Apples peeled, sliced into 1/4", and cored (don't throw away the peels - you can use them in the apple chip recipe below!)
1 tsp lemon zest
1 tbsp lemon juice
6 tbsp dark brown sugar, packed
1/3 tsp salt
1/4 tsp cinnamon
2 tbsp all-purpose flour
2 tbsp cornstarch
For Baking
1 egg (can substitute cream, milk, or plant-based milk)
2 tbsp sugar
Directions
Combine flour, sugar, and baking powder in a food processor, pulse a few times to mix
Add butter and shortening and pulse until mixture is crumbly with peanut-sized clumps
Add water and pulse until mixture is evenly moistened and very crumbly
Transfer dough to a work surface and divide into two piles, making sure that one pile is around 15% bigger than the other
Form each pile into balls and flatten into 5" discs
Wrap discs in plastic wrap and chill in the refrigerator for around an hour
Dust your work surface lightly with flour and place larger disc of dough on top
Sprinkle flour over the dough to avoid sticking, and use hands to knead the dough just until the dough is malleable enough to roll out
With a rolling pin, roll the dough out into a 13" circle, making sure to add more flour as needed to prevent it from sticking to your work surface
Carefully drape rolled out dough over a rolling pin and gently fit into a 9" deep-dish pie pan
Trim edges to ½" beyond the lip of the pie pan and turn edges under to create a rim
Place crust in the freezer for at least 15 minutes
Meanwhile, combine apples, lemon zest, lemon juice, sugar, brown sugar, salt, and cinnamon in a large bowl
Toss until apples are evenly coated and sugar is dissolved
Let sit for at least 30 minutes
Preheat oven to 400°F
Drain the apples, saving the juice in a microwave-safe bowl
Microwave juice until syrup is reduced by 50% (around 4 minutes)
Pour syrup back into the apple mixture and add flour and cornstarch, tossing to combine
Add filling to chilled pie pan with the bottom crust and spread evenly
Take the other piece of dough out of the fridge, knead, and roll into 11-inch circle
Slice into 11 1"-wide strips
Arrange 6 strips across pie
Form lattice by placing remaining 5 strips diagonally across first strips, gently pressing ends into the crust edges
Brush lattice with beaten egg and sprinkle lightly with additional sugar
Bake pie for 10 minutes, then reduce temperature to 375°F
Continue baking until juices are thick and bubbling and crust is golden-brown, covering edges with foil if browning too quickly (around 1 hour 20 minutes)
Cool on rack for at least 1 hour
Slice, serve, and enjoy.
Cinnamon Sugar Apple Chips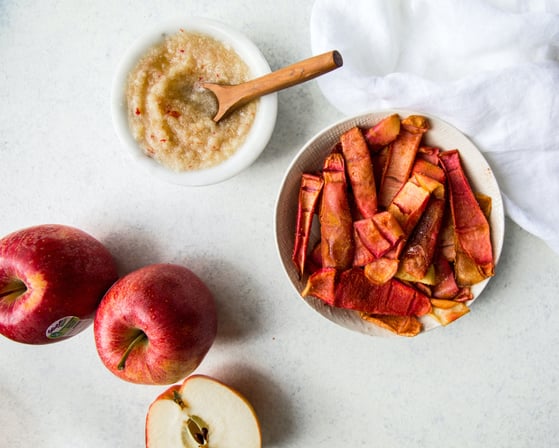 In a few easy steps, turn leftover apple peels into crispy, flavorful apple chips.
Ingredients
Peels of 8 apples
1 tbsp melted butter or coconut oil
2 tsp granulated sugar
¼ tsp ground cinnamon
Pinch of salt
Directions
Preheat oven to 400°F
Toss apple peels (roughly ½" wide) with melted butter/coconut oil and a pinch of salt until lightly coated
Combine cinnamon and granulated sugar in a separate bowl and toss half with the peels
Spread peels in an even layer on a parchment-lined baking sheet
Bake for 12 minutes, or until edges are browned
Allow roasted peels to cool for a few minutes, then toss with remaining cinnamon sugar
Dig in!
Energy-Reducing Apple Pie Overnight Oats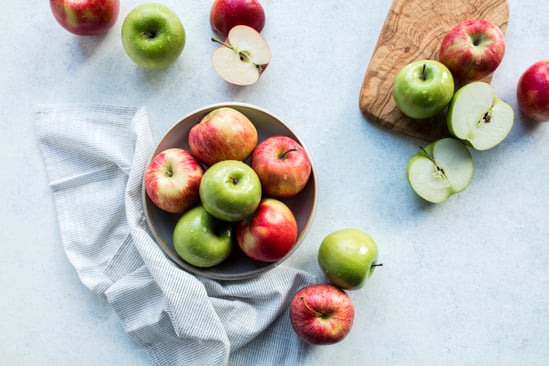 A healthy dish for you and the planet.
Ingredients: Chia Oat Base
½ cup rolled oats
2 tbsp chia seeds
1 cup almond milk
1 tbsp honey
Sprinkle of cinnamon
Ingredients: Apple Pie Topping
1 chopped Honey Crisp Apeel Apple (avoids up to 20 grams of GHG emissions)
1 tsp cornstarch
1/2 cup apple cider
Sprinkle of cinnamon
Directions:
Mix the Chia Oat Base ingredients together in a bowl and refrigerate overnight.
Add the Apple Pie Topping ingredients to a saucepan on a stove, and cook until soft and simmering.
Add topping to oat base (hot or cold) and mix.
Top with cinnamon sugar and enjoy!
Find Apeel produce near you!