At Apeel, we know about extending the freshness of organic apples, but we wanted to know what consumers look for when they shop for apples. In other words, what are the factors of freshness that they seek, and how would they respond to the notion of fresher-longer Apeel-Protected Organic Apples?
Being scientists and storytellers, we took a two-pronged approach to learning from the consumer. On the one hand, we enlisted the most opinionated people around - New Yorkers - for The Big Apple Apple Taste Test. Hitting the streets of New York City, we conducted a blind taste test with everyday New Yorkers comparing the taste of apples from the same lot - Apeel-protected vs. untreated. After a whole lot of crunching and chomping, we were thrilled that Apeel won 16-2.
Encouraging? Yes! Incredibly fun? Absolutely! But we needed to know more about shoppers to validate that Apeel provides a better eating experience. So with that in mind, we conducted an in-home qualitative study and a scaled survey to understand what is important to organic apple shoppers and whether they would embrace Apeel as a solution. Here's what we found out:
What Consumers Want in Organic Apples
In general, it's a quest for a firm apple with a crunchy texture. In surveying 500 shoppers, we found the top-ranked measures for finding the best organic apples to eat are:
Exterior firmness
Exterior color
Crispness/crunch
We've measured how Apeel helps organic apples stay fresh with significantly less incidence of shriveling and decay on the retail shelf. That's a good thing because at purchase, we learned that even one blemish is too many, and wrinkling faces even stronger opposition: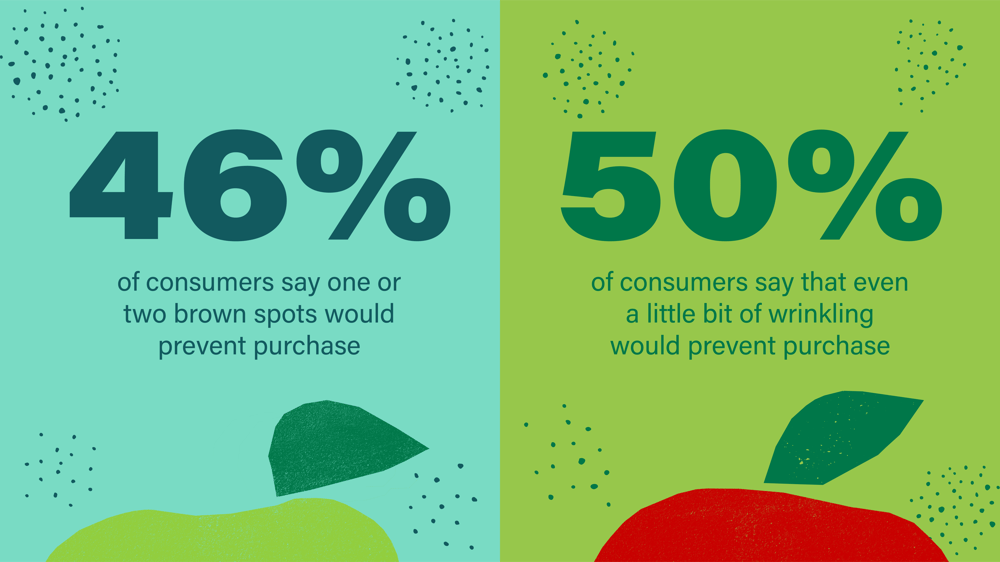 At this point, we know from the Big Apple Apple Taste Test, and our own in-home research, that consumers love their Apeel-Protected Organic Apples. The next question is would they approve of how Apeel works, with plant-based protection added to the surface of the fruit? It turns out that Apeel positively impacts the at-home eating experience and aligns with consumers' values and expectations.
Eating Experience
Regarding taste - like the Big Apple Apple Taste Test - our in-home qualitative study respondents expressed their desire for Apeel: "Overall I'd choose the Apeel because it kept the apple tasting better longer and keeps food lasting longer." And true to the measures we know are important to consumers: "The Apeel stayed fresher longer. Fewer brown spots. Tasted fresh. Crisper and juicy."
Consumers shared that Apeel preserves crunch and crispness, while untreated apples get mealy and soft. And given the importance of visual cues, it was important to hear that Apeel-Protected Organic Apples looked the same to consumers as they did upon arrival, while untreated became spotted and wrinkled. Overall, we heard that the benefit of more time from Apeel is a luxury in peoples' busy lives: they like the extra time Apeel affords them to consume all the apples purchased.
Value and Values
Given the discerning aspect of organic shoppers, we were happy to learn that consumers accept the plant-based protection Apeel offers. It turns out organic buyers want a great apple and just a great apple. And given the limitations organic farmers face in using shelf-life extension tools, Apeel provides a ready answer.
Consumers who prefer organic produce, including heavy organic purchasers, feel safe eating Apeel-Protected Organic Apples. We heard statements like "I felt totally comfortable eating it. It never crossed my mind not to" and "I like that it's plant-derived." There was even a sense that Apeel adds a degree of "premium" for some consumers because it brings tangible benefits for them. For example, 89% of participants in our scaled survey would consider paying a higher price for organic apples that stayed crisp and tasted fresh for longer. One consumer expressed, "It's definitely worth paying a little bit more for the Apeel apples."
Apeel the Gamechanger?
Given shopping trends that include less frequent but bigger purchases at grocery stores, consumers quickly understood that Apeel protection could support that practice. Moreover, 90% of consumers would consider buying more apples if the apples stayed crisp and tasted fresh for longer, and that reflects a real opportunity to shift consumer produce shopping: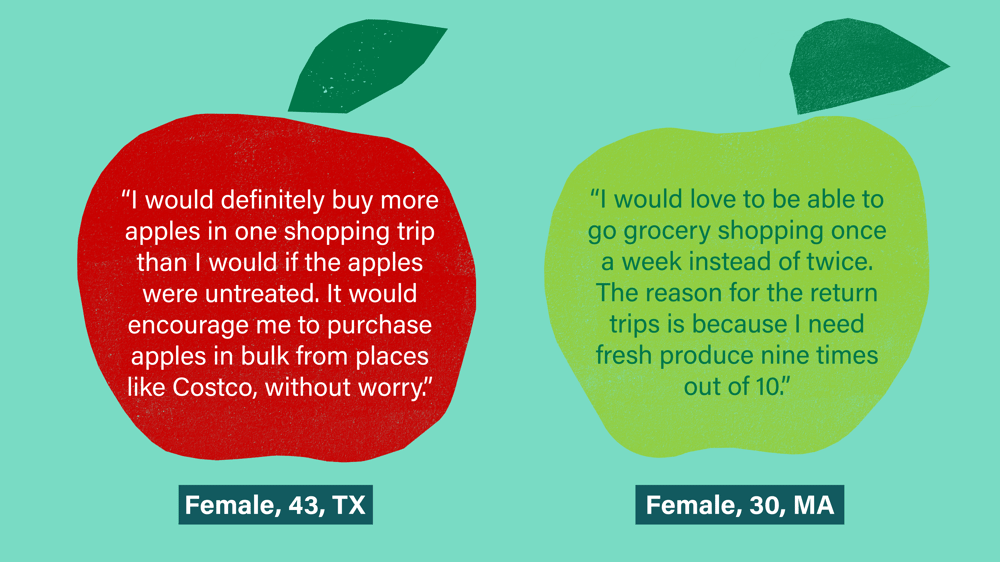 We're feeling extra good about organic apples and know our plant-based protection can drive basket size and retailer preference. From the streets of the Big Apple and verified by organic shoppers across the US, we heard that consumers want to take a bite of something different: a longer-lasting organic apple that can go the distance.
Sources:
"Apeel-Protected Apple Consumer Experience Study" Conducted by Ipsos on Behalf of Apeel Sciences, June 2021
Apeel, Independent research conducted with n=500 US frequent organic apple buyers, September 2021