Here at Apeel, we look to create long-term, sustainable growth for the foods we eat, and we are equally dedicated to achieving healthy, long-term growth for our employees. We believe that in order to create a more abundant future for our planet, we must also focus on providing abundant futures for our team members.By providing 100% employer-paid US health benefits as well as equity, 401K match, open paid time off, not to mention an abundance of wellness activities, we are passionately dedicated to making sure that Apeel employees are happy, healthy, and growing.
We sat down with Megan Pawlak, our Senior Manager of People & Culture, to share more details about our generous benefits packages for our US-based employees.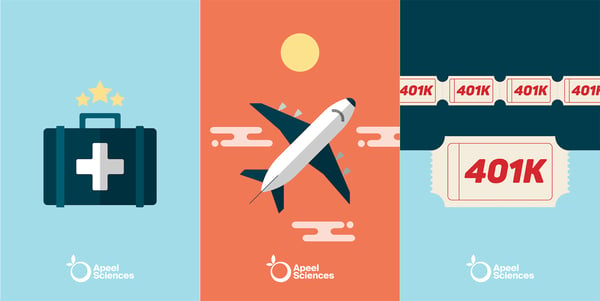 What does Employer Paid Health Care, Vision, + Dental look like at Apeel?
Megan: We offer US employees a variety of medical insurance options, including PPO and HMO plans. Employees also have the option to enroll in two PPO plans where Apeel covers employee premiums and 50% of premiums for dependents. Additionally, we cover 100% of the employee's premiums for the vision and dental PPO insurance plan.
And what does open paid time off look like?
Megan: Apeel recognizes that every employee has their own unique work-life blend. With our open Open Paid Time Off (PTO) policy, employees in the US can work with their managers to determine the number of vacation and sick leave days they need throughout the year to rest, recharge, and explore the world around them. We operate this benefit with a "freedom with a framework" idea, meaning that we trust our employees to consider their business needs and use this benefit as often or as little as they'd like.
How does Apeel handle 401K?
Megan: We have a 401K option where employees can choose between traditional 401K and Roth accounts. In addition to this, Apeel will actually match up to 5% of your annual salary! Since we know that financial planning can be overwhelming, we also have financial advisors come onsite once a year to talk to employees about their financial futures and how best to utilize their 401K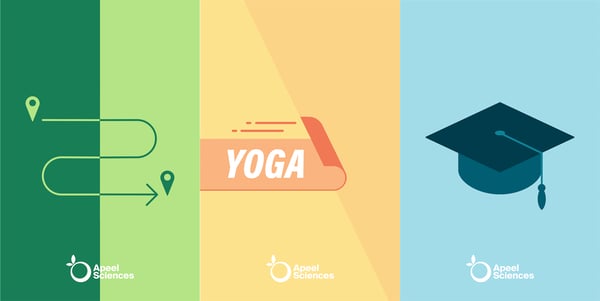 And what about relocation assistance?
Megan: On a case by case basis, we may offer relocation assistance to those considering the move to Santa Barbara to work in our headquarters. We also provide a guide to Santa Barbara where you can learn more about our neighborhoods, what to eat, and what to do in your free time. In this guide,you will also find fun activities, organizations, volunteer opportunities, and more. For those interested in buying a home, we can connect you with a recommended real estate agent to make sure you find your perfect new home.
How does Apeel encourage personal health beyond the office?
Megan: Personal health and fitness are so important to us here at Apeel. For employees based at our headquarters in Goleta, we offer free yoga and meditation classes weekly (in-person when we go back to the office and virtually while we're working from home), and have a fleet of Apeel bicycles that employees can take around town at any time! We also have a basketball hoop and ping pong tables in our break room for employees to hang out and take a break.
If you want to hit the gym or go for a run on your lunch break, we have lockers and showers available in our office. We're a very active group of people, so you'll always be able to find a running buddy!
In addition to our remote activities, we also provide full time US employees the benefit of $40.00 per paycheck to use towards any wellness activity of their choosing, be it rock climbing, yoga, or even meditation.
And what about beyond physical health?
Megan: With ingenuity as one of our core values, it is of the utmost importance that our employees continue to learn and grow. We provide an annual stipend of $1,500 to use toward pre-approved education activities like college courses, conferences, or certification programs related to their work.
In addition to our educational stipend, our Learning & Development team offers professional and personal development classes online and in-person throughout the year. We've held classes in a wide variety of areas, including professional coaching for employees, personal development courses on topics such as wrangling debt and understanding equity, and professional development courses on subjects like presentation skills, influential communications, and Spanish and English language classes. We're all about growth in every way around here!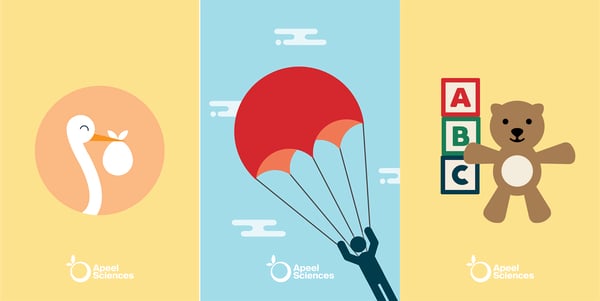 How do families benefit from working at Apeel?
Megan: We want our employees to be paid their full salary when they're out on family leave, and are proud to offer top-up pay for disability and paid family leave. In simple terms, this means that we supplement employees' base pay so that they earn 100% of their normal pay while they're on leave.
What are the benefits of working at Apeel in a location outside of the United States?
Apeel is committed to providing competitive benefits in all of our international locations. We work with several partners to evaluate trends and provide the best experience to our employees. We understand that every country has a different view on what benefits are competitive, and we evaluate those differences carefully to make sure that our employees can take care of themselves and their families.
Thanks Megan!
Interested in working with us? Check out our openings on our Apeel careers page to find the perfect fit for you.