Now it's easier than ever to do your part to reduce food waste in the world and at home, as Apeel produce comes with no extra charge to you.
Today, we are proud to announce the arrival of Apeel Asparagus and Apeel Limes are rolling out at Kroger stores across the Midwest! What's more, today marks the beginning of a coast-to-coast rollout of Apeel Avocados - reaching 1,100 locations nationwide.
How Does Apeel Reduce Food Waste?
Apeel's plant-derived, water-based coating that gives produce a little extra "peel" that slows the rate of water loss and oxidation — the primary causes of spoilage. Apeel doubles to triples the shelf life of many types of produce, which reduces everyone's food waste. And the best part? It's made from plants! Read more about Apeel and how it works here.
Hello Asparagus!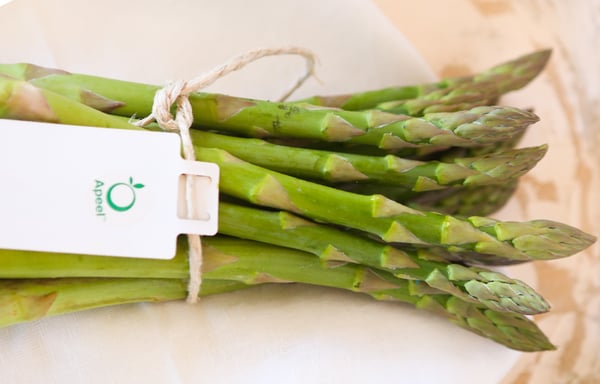 Asparagus is one of the most perishable produce items, so it was a natural next step to focus on this yummy flowering plant after the success of shelf-life extending Apeel Avocados. It's also really fun to watch videos of asparagus growing.
Also, asparagus is charged with having the highest carbon footprint of any fruit or vegetable due to the use of air freight in the upstream supply chain. With Apeel, asparagus stays fresh for 2x as long, meaning suppliers can shift from air freight - the typical shipping modality - to marine. That means a lower carbon footprint is possible with Apeel Asparagus, and up to double the shelf life compared to non-Apeel asparagus. It's a win for the environment and a win for asparagus-lovers!
Limes, Limes, Limes
When they're ripe, limes are delicious, juicy, and add just the right amount of citrus pop to any dish (not to mention margarita). But when limes dry out, they shrink, lose their juice, and even discolor. With Apeel's extra "peel," Apeel Limes stay fresh and juicy longer, so you can pick up more of them.
Apeel + Kroger: A Food-Waste-Fighting Duo
Kroger is not only the largest grocer in America, they're blazing the trail with new innovation and sustainability values. In fact, they're on a mission to end food waste in their stores by 2030. We're all about it: that's why Kroger is such a phenomenal first partner for our nationwide expansion.
You can read more about our Kroger partnership on USA Today.
Where Is Apeel Produce?
Drop your city or zip code into our Apeel store locator, and our map will show you where you can get Apeel produce.
Are you excited about reducing your food waste with Apeel produce? Share your story with us! Tag us on Instagram, Twitter, or Facebook for a chance to be featured. We look forward to hearing your stories!